Dr. Koo is an incredibly compassionate and talented vein doctor specializing in minimally invasive vein treatments. She makes an effort to ask about your symptoms, understands how vein disease is affecting your life, and crafts a personalized treatment plan for you. She is keenly aware of how vein disease can negatively affect your life, so she takes care to ensure consistent results.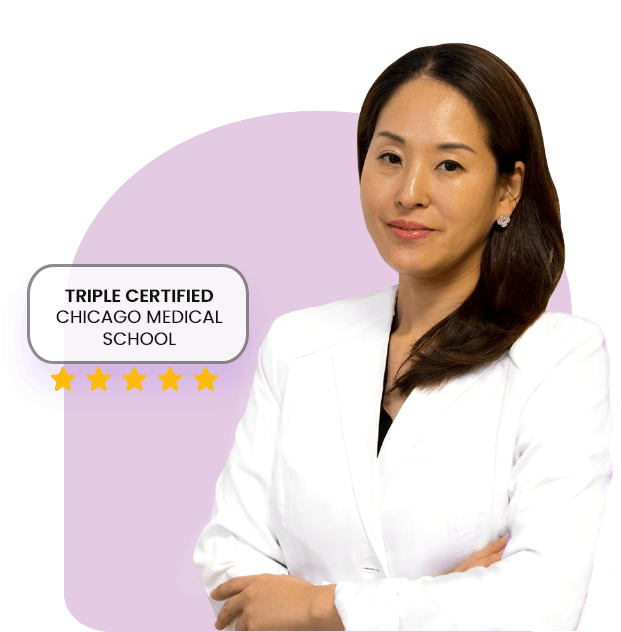 Dr. Jasmine Koo is one of the leading fellowship-trained vein doctors in California. She has specialized training in ultrasound-guided, minimally invasive, endovascular treatments for chronic venous insufficiency, the root cause of most vein problems, including spider veins, varicose veins, leg heaviness, leg pain, and leg swelling. Dr. Koo takes a comprehensive and personalized approach to vein care to ensure optimal results.


Dr. Koo was born and raised in Seoul, South Korea, and moved to Seattle, Washington, at 14 years of age. She completed her undergraduate degree from the University of Washington with a B.S in Chemistry and a Minor in Music. After moving to Chicago, she received a Medical Doctorate degree from the Chicago Medical School. Next, she completed her Residency in Diagnostic Radiology at the Detroit Medical Center/ Wayne State University of Medicine in Michigan.
Dr. Koo completed her Fellowship in Vascular and Interventional Radiology at the University of Texas Southwestern (UTSW) in Dallas. During her fellowship training, she specialized in minimally invasive image-guided endovascular procedures, such as radiofrequency ablation, endovenous ablation, venaseal, and sclerotherapy. She also received her board certification in vein care from the American Board of Venous and Lymphatic Medicine (ABVLM), establishing her as one of the country's top 1% of vein doctors.
Dr. Koo currently sees patients at our offices in California.